The
Pontiac Aztec
is dead. General Motors
announced today
that their nearly ten-year-old threat to shut down Pontiac is now a done deal. This is a surprise to anyone only recently immigrated to the Planet Earth. Pontiac has been on the cut list since 2001. So at last, it's possible to visit a GM dealership without wearing
those goggles
used for viewing
Medusans
.
For those of you who haven't guessed, I'm a year older.
I'm 42
. I wish Douglas Adams were still around to curse.
So either I am to ponder the question to the ultimate
answer
...or I'm to have my brains extracted by a couple of white mice.
Not sure which I would dread more.
At any rate, I'm 42 and no closer to understanding Life the Universe and Everything...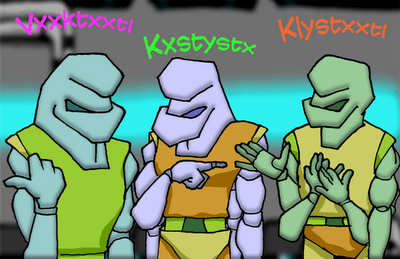 Meet the engineering leads of the Protectorate Space Platform. Yes, I do name my aliens. I leave you to struggle with pronunciation. Don't email. I won't help you.